For the last three years SCA has been able to enjoy having a basketball team.  For the last two years we have made the finals in our Christian school league.  What a joy it has been to see our boys excel in basketball.
Cross Country is a hard enduring sport that takes place from September to October.  If you would like to join the team please contact the school office at (207) 324-0777.  Conditioning begins in August.  In 2012-13 season Alex Hastings finished third in the state!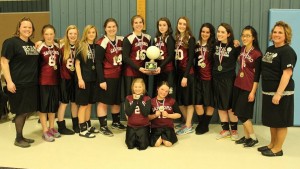 Our volleyball team has seen great improvements over the last three years.  It is for girls only and our games are played during basketball season.  The boys basketball team and girls volleyball teams travel together and compete with other Christian schools in the ACEL Christain School league.  The SCA volleyball team was 10-3 for the 2013-2014 season, finishing strong in our league tournament.
EXCITING NEWS.....Our 2015-2016 Volleyball girls are STATE CHAMPS!!!
2013-2014 was our first season to have a soccer team.  Soccer is a co-ed sport that is played in our league during April and May.  Our soccer team did a fantastic job for their first season.  It was great fun and we look forward to the coming season.